We have a need for a kitten foster home and a dog foster home.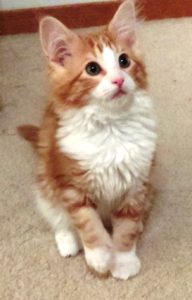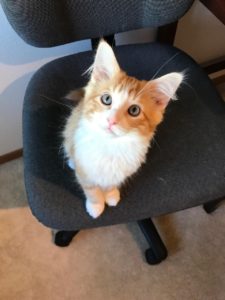 Benz is a 3 month old (date of birth Aug. 23, 2016), domestic long hair, orange and white male kitten that has not been neutered yet. He has tested positive for feline leukemia at 8 weeks and 12 weeks by the antibody "snap" test, and also tested positive at 12 weeks by the FeLV antigen specific immunoassay test. Benz came to our rescue with his mom and two siblings, and mom and the siblings have tested negative for feline leukemia by the antibody "snap" test. Benz is named after a high performance race car as he and his two siblings have two speeds–off and over drive. Benz is energetic, affectionate, playful and a very boisterous young boy. He likes to climb humans and perch on their shoulders, and give kitten kisses while chewing on your hair or ear lobe. Benz needs to go to another foster home with no other cats or to an adoptive home that understands what is involved with the care of a feline leukemia positive kitten. Benz will probably do fine in a home with a dog with the right introduction. Can someone find it in their heart to take on a kitten with such special needs as adorable Benz? Benz has been dewormed and has received two feline distemper vaccinations. Benz is scheduled to get his third feline distemper vaccination and rabies at 16 weeks of age.
We are looking for a foster home or permanent home for a 7 year old female black lab named Brie. The current owner is in hospice care.